To live good life both physically and spiritually, it is essential to combine the conservation of the natural environment with the creation of a comfortable living environment. We have developed various environmentally-friendly technologies and applied them to diverse corporate operations including the conservation of biotopes and natural environments, processing and recycling waste material, decontaminating soil, purifying contaminated ground water, reducing strain on the environment through the utilization and saving of natural energy, greening cities and buildings and creating comfortable living environments and spaces.
Rooftop greening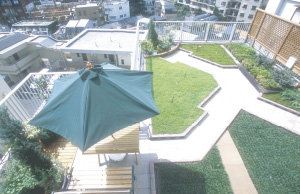 We have long studied the feasibility of alternation the rooftop or balcony that protects a house from rain and sunlight into a comfortable green space, and have developed techniques for greening both flat - roopf and vertical wall as well as techniques for the meaningful utilization of rain-water. We also have developed special lightweight soil and rooftop finishing materials. This contribution to the greening of urban areas is a source of great pride to the company.
Biogarden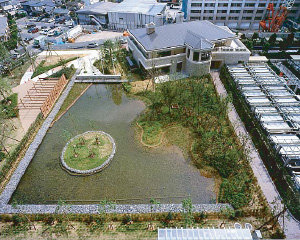 When planning urban collective housing, we design water and greenery as part of the community landscape. For one particular urban Condominium project, we constructed a "Biogarden" of about 3,800 m2 in area, a symbiotic model garden designed to preserve the natural environment by adding plenty of natural elements to the landscape. We will continue to create a comfortable living environment based on the ECO-TONE concept: creation of a comfortable environment in which people live in harmony with nature.
Demolition of incineration facilities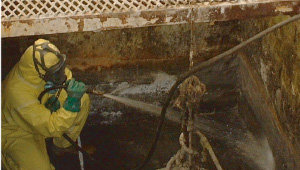 As the Law Concerning Special Measures against Dioxins has come into effect and the movement towards consolidation of municipalities is emerging, the number of demolished incineration facilities is predicted to increase. We have a great depth of experience in both demolishing and manufacturing incineration plants. Of particular note was the demolition of incineration facilities at Marugame City in Kagawa Prefecture where the operation was evaluated very highly. Based on our experience in this field, we have established a method for containing dioxins, techniques for purgation contaminated soil, and techniques for demolishing plants. We provide comprehensive engineering services from preliminary surveys through to consultation on the use of sites after plants have been demolished.